RF Probe Cards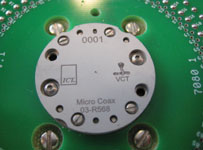 ICT is ready to work with you to meet your RF requirements using Vertical Contact Technology or stripline ceramic blade technology. The high frequency version of our VCT uses matched impedence transmission lines. This technology has been successfully proven to be capable of up to 10 GHz. The stripline ceramic blade cards will provide RF performance up to 3 GHz.
ICT's solution offers a highly cost-competitive solution for probing at RF frequencies. In comparison with competing technologies, ICT's HF VCT was found to be generally superior to other technologies available. A comparative study between other vertical, membrane and RF probes was undertaken by a neutral testing agency, and at frequencies up to 10GHz ICT was found to be at the top end of competing technologies.
The RF VCT offers significant advantages in:
Consistent, stable performance
Minimal probe marks on pad
Relatively low fixed costs for new devices
Product is easily repaired
For more information, contact ICT.